Palm Run 2018
Put your best foot forward and join Fitness First and RaceME at our inaugural community fun run! Run as a family or run to beat your personal best all whilst taking in the stunning scenery of the Palm Jumeriah. We'll help you cross the finish line with TRICLUB by Fitness First.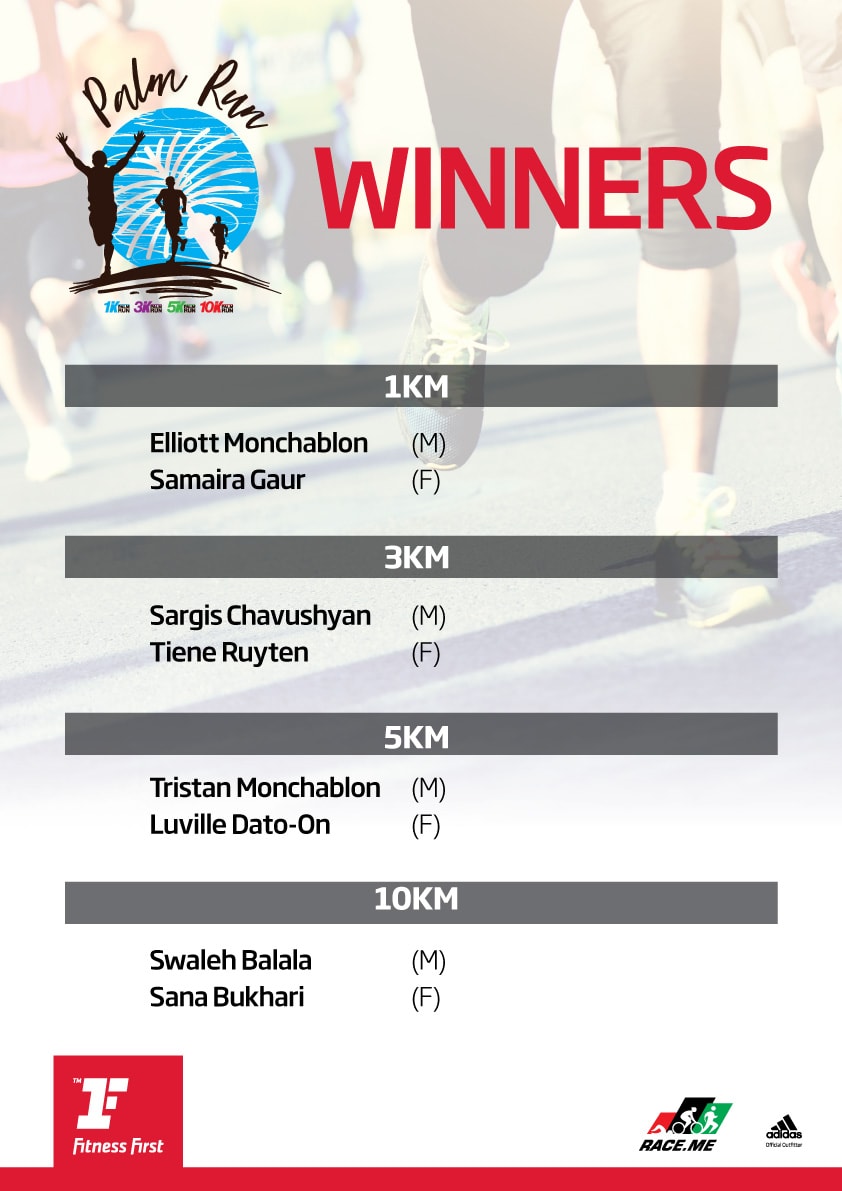 Well done to everyone who participated in this years Palm Run. We hope you had an amazing time.
Congratulations to the below fastest Male/Female per category as you have won a prizee. Please contact Brienne.fillinghambathie@fitnessfirst-me.com to claim.


We have everything you need to prepare for the Palm Run. Make sure you download the Race Info Pack below and read it carefully, this pack will tell you everything you need to know about travelling to and from the venue and ensure you are ready to run on race day.
RACE DAY (Things you need to know):
DATE: 19th January 2018
ALL INFORMATION REGARDING PRE-REGISTRATION & RACE DAY - PLEASE READ CAREFULLY
Step 1 – PRE REGISTRATION COLLECTION:
***NO REGISTRATION ON TUESDAY NOW***
Collect your Race Pack between 17th-18th Jan (5pm-7.30pm)
From Gateway MonoRail Station (Level 3): https://goo.gl/maps/T81uhH4weU72
Drive down Al Soufuh Road until you have passed Nakheel Sales Office on your right. Please don't enter Palm Jumeriah and proceed until you see the sign posts for the palm Jumeriah Monorail.

ON THE DAY OF RACE REGISTRATION
This is ONLY for those runners not living in Dubai. This will ONLY take place from the GATEWAY MONORAIL STATION (see above) and will run from 5:00am until 6:45am.
THERE IS NO RACE PACK COLLECTION FROM THE START/FINISH LINE.
Step 2 – RACE PACK INFORMATION:
Make sure you collect your Fitness First string bag, BIB Number (with timing chip attached), Numbered Race wristband, Pins (x4) and all other race pack items.
BRING A VALID PHOTO ID TO BE ABLE TO COLLECT YOUR RACE BAG.
This is your opportunity to ASK QUESTIONS, so please come prepared with any additional questions you may have.

COLLECTING FOR A FRIEND?
You can nominate someone you know to collect your Race Pack for you, HOWEVER that person must have a copy of your Photo ID in order to collect on your behalf. They only need show this copy, we will not take it.
Step 3 – MONORAIL TICKETS:
Purchase a Monorail ticket (Wristband) for 21AED from RaceME at Pre-Registration
ONLY cash will be accepted, please note there are NO ATMs at the Monorail station.
Monorail tickets purchased will be for a specific train, monorail timings to the Palm Run 2018 are as follows:
6.00am/6.15am/6.30am/6.45am/7.00am
These Monorail tickets will be sold on a FIRST COME FIRST SERVED basis.
The Monorail will be a DIRECT ROUTE from Gateway station to Atlantis Aquaventure station where the race starts.
Step 4 – PREPERATION:
Prepare your race bag the night before with the following items:
Fitness First String Bag (ensure your BIB number is clearly written on this)
BIB Number Safety Pins to attach your BIB number to yourself (no running belts allowed)
Race T-shirt (inside the bag)
Pre-booked Monorail ticket (if required) – to be attached to your wrist
Running shoes
Water bottle
Sun hat
Sun cream
If you will not be taking the Monorail then please PRE-BOOK your Taxi as NO PARKING will be available.
Step 5 – HOW TO GET THERE ON RACE DAY:
On Race Day make your way to the Palm Jumeirah crescent outside Atlantis Aquaventure There is NO PARKING available anywhere on the Palm Crescent for athletes - These are the ONLY OPTIONS on the day.

OPTION 1
Park at the GATEWAY MONORAIL station - and take the MONORAIL to the start outside Atlantis Aquaventure. Tickets for the MONORAIL can be purchased from Race ME officials during the PreRegistration period at the Gateway Monorail station. Tickets purchased are time specific and will be sold on a first come first served basis. If you are late for your booked seat then there is no guarantee you will get to the start line on time.

OPTION 2
Take a Taxi and get dropped off outside Atlantis Aquaventure waterpark.

OPTION 3
Get dropped off by a friend/family member [Car-Pooling is highly recommended] outside Atlantis Aquaventure waterpark.
Step 6 – BAG DROP AREA:
Go to the Fitness First BAG DROP area to drop of your belongings.
NOTE: only Fitness First string bags with your BIB number clearly written on it will be accepted into this area, no other bags will be accepted by the staff manning this area. Your race wristband has your BIB number on it and you will show this to collect your belongings after the race. Please note that Fitness First cannot take any responsibility for personal belongings. (Please avoid bringing valuables and cash)
Step 7 – RACE BRIEFING:
Once you have arrived at the venue attend the RACE BRIEFING available in the Athletes Village at the following times: 6.45am/7.00am/7.15am You MUST attend Race Briefing – this will explain course info, timings, last minute changes and regulations
Step 8 – WARM UP:
Attend a Fitness First Warm Up session at the stage near to the start line, at the following times: 6.30am/6.40am/6.50am/7.00am/7.10am
Step 9 – RACE START TIMES:
Head to the start line for your race 15 mins prior to your start time.
RACE START TIMES unless otherwise stated at the race briefing:

Palm Run 10km - 7:30am
Palm Run 5km – 7.35am
Palm Run 3km – 7.40am
Palm Run 1km (KIDS) – 8:45am

KIDS 1km
Parents can run with your kids for free. The last tram departing GATEWAY is 7:00am for all distances regardless of the fact that the kids race starts at 8:45am
Step 10 – DURING RACE:
Race! First 1km will be on the Boardwalk – then you'll move to the road. Turn at your race colour turning point (e.g. 3km purple, 5km green, 10km red) and return to finish line. There will be designated water stations along the route. Toilets will be available at the Race Village.

NO HEADPHONES
You are not allowed to run this event with headphones. Anyone caught doing so will be disqualified. The running track is narrow and there will 1000+ runners passing each other at different speeds. It is important you hear what is going on around you with runners calling out etc. You are welcome to carry your music device but can only listen to music via the external speaker.
Step 11 – AFTER THE RACE:
Collect your medal at the Fitness First finisher chute, smile for photos and enter the athlete's village. Collect your Personal items from the Fitness First Bag Drop area.
The MONORAIL will have non-public departures at 8:30am and 8:45am (straight to Gateway station) from AQUAVENTURE and from 9:00am the public departure times will be followed (these trains will stop at normal stations) – your Monorail wristband allows you to use the public service back to Gateway Station until the end of the day.
AQUAVENTURE SPECIAL OFFER (on the day only)
Our good friends at ATLANTIS have created a special offer for Aquaventure. Entrants and their families can attend the water park after the race. Entry is AED150 per person (each registered runner/with wristband can take 3 guests and avail the offer). (Normal price AED 275)

SWAPPING or SELLING ENTRIES
Under no circumstances can you swap or sell your entry to another person. Anyone caught doing this will be disqualified from the race and both parties will be banned from entering future events organised by RaceME Events. Why do they say this......it is a condition of entry and also of our event insurance...plus if you are running and suffer a medical event then we have no idea who you are who to contact in an emergency.