JOIN THE FITNESS MOVEMENT
Exclusive 1 MONTH MEMBERSHIP starting from AED 799*
Exclusive 1 MONTH MEMBERSHIP starting from AED 799*
Workout 8 times with MYZONE® and you'll get a FREE 2 week pass!*
At Fitness First we help thousands of people to take control of their fitness and health to reach their potential every day under one fitness movement, with the aim to empower and inspire.
6 COUNTRIES
67 CLUBS
1500 EXPERT FITNESS STAFF
1 FITNESS MOVEMENT
At Fitness First we offer you everything you need to feel empowered, from fitness to health; and from wellness to nutrition.
Our full suite of fitness services, classes and expertly qualified staff enable you to hone your determination and focus – empowering you to go further in your fitness, and in life.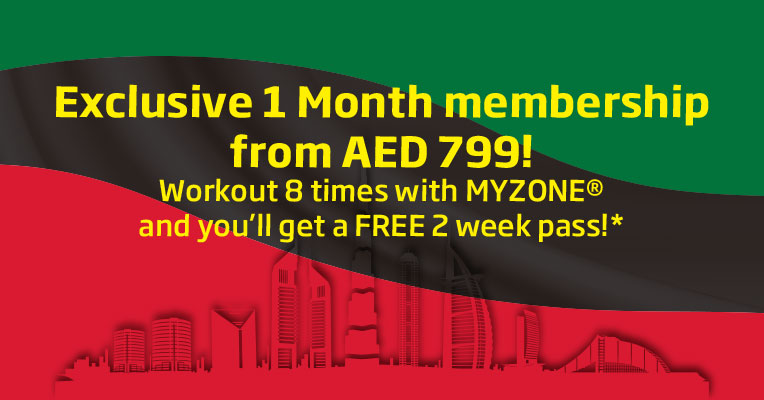 The approach is simple but the effects are extraordinary. Our integrated fitness, health and wellness platform and team-spirited approach to training feeds your motivation and as a result you will see and feel the changes to your overall health and lifestyle, you'll feel empowered to keep training towards your fitness and life goals. Our aim is to inspire you to become the best version of yourself.
Feel empowered by your training, empowered to exceed your potential and empowered to be part of one of the largest fitness communities in the Middle East.
Join today, discover your power, and find yourself training that little bit harder, longer and stronger, with a fitness community that's empowered by Fitness First Middle East!
*Terms & conditions apply. Offer valid till 31st December 2017.
#EmpowerME
*Terms & conditions:
Must register online via the FF website to receive

exclusive

offer.

Confirmation email after registering on the website must be presented at the club to redeem the promotion.

Offer applies to home club (one club only use) membership. Other packages available for alternative access or duration.

Offer valid till 31st December 2017 only.

Offer valid for Non-Members only.

Offer applies to age 14+ only. Separate junior membership is available.

Offer not applicable in conjunction with any other offer or promotion, including Corporate memberships.

Exclusive offer includes 1 x Getting You Started package.

1 month

membership does not include starter pack.

8 workouts must be recorded on MYZONE and shown to the membership consultant via the app or website to receive the

2 week

voucher.

2 week

voucher is given only at the end of your

1 month

membership, provided you complete the 8 MYZONE workouts. MYZONE is a paid for

product

and will be

additional

to the membership fee. If the new member already owns

a MYZONE

belt, they can use this to record their 8 workouts.

If the member decides during their

1 month

membership that they wish to upgrade to a

longer

term membership, there is a promotional upgrade to avail longer term membership by only paying the difference.

The upgrade must take place before the

1 month

membership expires.

The

2 week

voucher starts from the day after the

1 month

membership expires.

The

2 week

voucher is transferable and can be given to a friend/family member.

Member can upgrade their membership within the 1 month to a different membership package.

The

2 week

voucher will only be accepted by the club if it is stamped and signed by the Club General Manager from where it was issued.

The

2 week

voucher is only applicable for use in a club of the same tier as the club where the

1 month

membership was purchased. i.e. Plus club only, Platinum club only or Platinum Plus club only. The tier is printed on the front of the voucher.

The

2 week

voucher can only be used after the expiry of the

1 month

membership.

Not tradable or redeemable for cash.

Health Questionnaire must be completed and Emirates ID copy given by any non-members using the

2 week

voucher.

The promotion ends on the 31st December 2017.

All Club Standard Terms and Conditions apply.

The EmpowerME campaign and fitness movement is created with the intention for empowering people in our community to lead healthier and fitter lives. This is in reference to health and lifestyle only.
Follow us on our social media channels to keep updated! Don't forget to tag us on your social media posts using #EmpowerME #FitnessFirstME @FitnessFirstME and subscribe to our blog.fitnessfirstme.com for fitness advice and tips!