Don't take our word for it, here're what some of our members have to say about the results they've achieved.
MOHAMMED B.
Fitness First member of the month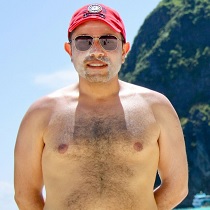 Before: August 26, 2014 Body Weight 86.9 kilos Skeletal Muscle 36.8 kilos Lean Muscle Mass 64.8 kilos Body Fat Percentage 25.4% Fitness Score 76
After: 22 weeks later Body Weight 78.7 kilos Skeletal Muscle 40.7 kilos Lean Muscle Mass 70.6 kilos Body Fat Percentage 10.3% Fitness Score 92
"THANKS TO MY PERSPNAL TRAINER WHO WAS BEHIND MY BACK EVERY DAY PUSHING ME TO MAKE IT TO THE GYM. WITHOUT HIM, IT WOULD HAVE BEEN A GREAT STRUGGLE."
I started working out on my fitness plan on Aug 26th 2014 at Fitness First Motorcity. I am so impressed with what I have achieved so far in only 5 Months and 2 weeks in terms of weight, fat loss, and Muscle gain. I can see a great change on the way I look, every morning when I wake up, I look in the mirror and see the difference, it keeps me motivated and determined to achieve more. I would recommend Hamilton to my friends, he is a great Coach and well experienced Personal Trainer, he knows what he is doing, and he is the one you can trust on your fitness and body wellbeing. Moreover, he is a friendly person with a great character whom I enjoy talking to. He makes the workout a pleasant experience. When I am lazy, he is the alarm, and he is the motive! I am happy to have Hamilton as my Personal Trainer and friend, I will be turning 39 years next month, I am the father of 2 kids, and a managing partner of a contracting company! With the busy life I have (working 9 – 11 hours every day) it has been challenging to find the time to work out. Thanks to Hamilton who was behind my back every day pushing me to make it to the Gym. Without him, it would have been a great struggle.