Now you can learn to swim or improve your swim technique in the comfort of your own community
Convenient
We come to your community at a time that suits you
Flexible
You can split your payments into 4 interest free installments with Tabby
Personalised
Our sessions are designed to help you achieve your goals
Image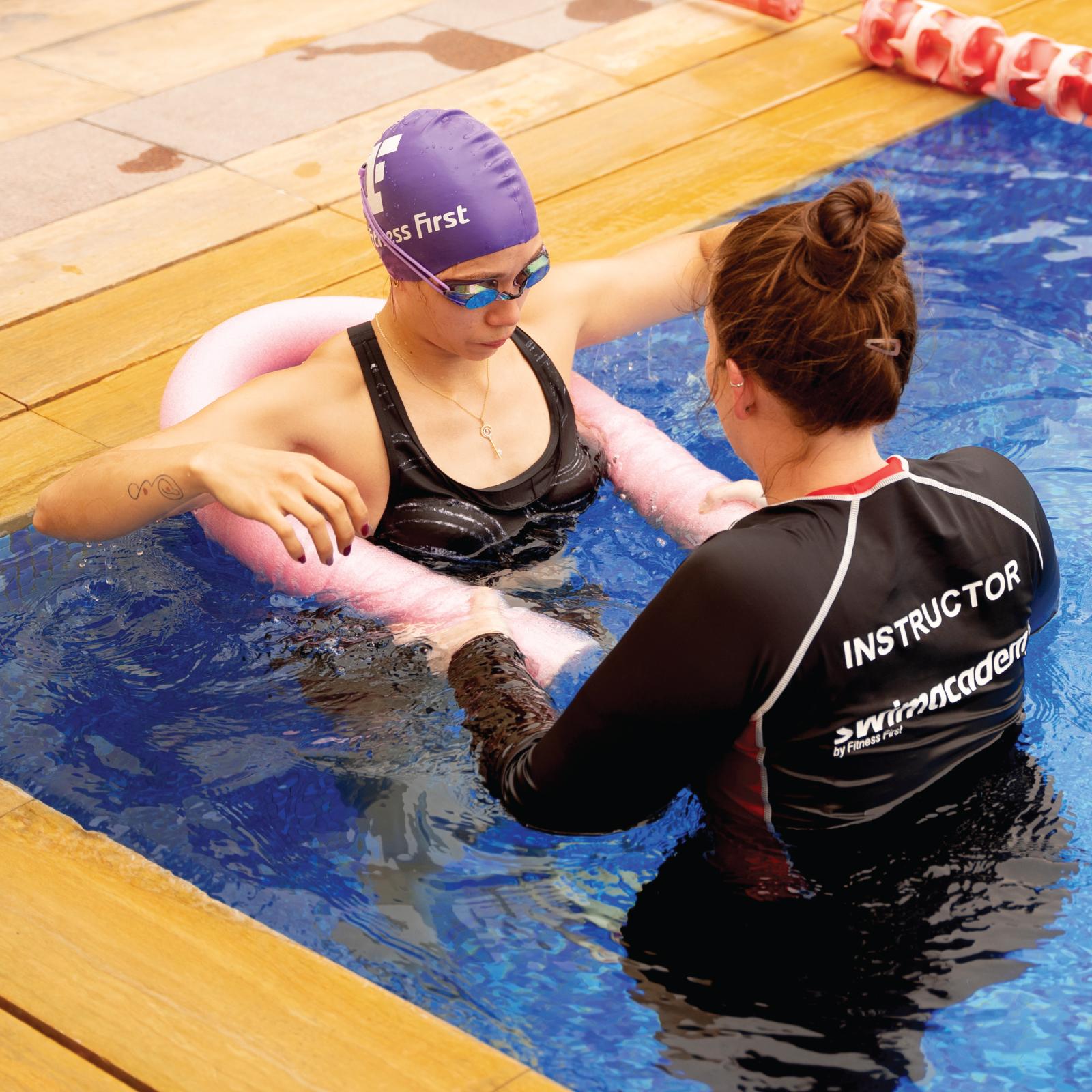 Swimming lessons are open to both children and adults from ages 3 years and above; of all abilities.
We have both male and female instructors available, and all our instructors hold an international swimming instructor qualification.
You can book your sessions any day of the week at a time that suits you.
Available in private sessions or small groups of 2 persons 
Introductory Offer
Get 20% discount when purchasing a package of 12 sessions and above
Offer valid until 30th June 2023
Plus get a chance to win a package of 12 sessions worth AED 3,480 if you register your interest today.

Whatsapp: 0502318796 Email: swimacademy.ff@fitnessfirst-me.com 
Swim Anywhere Community Promotion T&Cs
20% introductory discount is only applicable on community packages of 12 sessions and above from May 23 to June 30, 2023.
Winner will be selected on random draw using an online tool.
Winner will be notified by phone, email, and SMS by a representative of Fitness First directly. If a winner does not respond within 72 hours of being notified of their win, the winner's prize is forfeited and Fitness First shall be entitled to select another winner following the process described above. If a winner rejects their prize or the entry is invalid or in breach of these terms, the winner's prize will be forfeited and Fitness First shall be entitled to select another winner.
The Promotion is subject to change at any time at the discretion of Fitness First Management
The winner consents to the use by Fitness First, and its related companies, both before and after the closing date of the competition for an unlimited time, of the winner's image, photography and name for publicity purposes if required, and in advertising, marketing or promotional material without additional compensation or prior notice and, in entering the competition, all entrants consent to the same.
Full payments must be made at the time of booking or 'top-up'- no reservations or bookings can be made without payment.
If a swimmer is not able to attend their scheduled session for any reason and they miss the lesson, they can check the availability for a make-up class directly with the instructor. There is a maximum of 2 make-up classes permitted within a block of 12 sessions each class must be made up within 2 weeks of the session missed.
Please note a make-up class is not a credit – all classes must be completed within 12 weeks of the continuous program operating.
We have private 1:1 sessions and small groups of maximum 2 swimmers. The minimum age of the swimmer must be 3 years old and above.  The child/junior lessons are 30 minutes each session and adults are 45 minutes in duration.
There is no credit or reimbursement of fees for group sessions unattended. If swimmers do not attend their scheduled session they miss the lesson or they can check the availability for a make-up class with your instructor.
For private 1:1 classes, in the event of injury or illness a minimum of 24 hours' notice is required for cancellation.
Swimmers must ensure they attend all sessions. Please ensure children aged 7 and under are supervised by an adult to the registration table at the lesson time, children at this age often don't know when their lesson is starting and cannot be expected to get themselves there.
Noti­fication by the student/parent of inability to attend a class/session is requested as a courtesy to the instructor. Swimmers who miss more than 2 consecutive sessions must show a medical note. For small group sessions, non-attendance will cause a swimmer to fall behind which, in turn, affects the group. Too many sessions not attended may result in a change of group or suspension until the following term to ensure maximum learning environment within our swimming program.
It is advised that swimmers attend one swimming program as it has been proved that different approaches from more than one coach at one time are detrimental to the swimmer's progress.
Swimmers are requested to be ready for the lesson (with their hat and goggles on) 5 minutes prior to the lesson. If a swimmer is more than 5 minutes late to the session s/he may not be allowed to join the class as it can be disruptive to the other learners.
Swimmers must behave in a manner acceptable to the swim instructor and that unsuitable behavior may result in his/her expulsion from further participation in the swimming program, without further notice or refund at the discretion of The Swim Academy.
Further to recent NSPCC advice we are required to inform parents and guardians that there are aspects of our teaching which require a 'hands on' technique. This type of physical contact between instructors and swimmers will be in full view and will be used for the following reasons:
Where is essential to support the swimmer during the early stages of learning a skill for safety reasons
To develop the skill and technique (e.g. placing the swimmer in the correct position/posture)
To prevent an injury to administer first aid to an injury
Please let us know on joining the program if you are uncomfortable with any aspect of this teaching technique.
If the swimmer needs to leave poolside for any reason he/she must tell one of the coaches where you are going.
I agree to give my consent for videos/photographs to be taken of me/my swimmers during the swim sessions when necessary and for this to be used for training and/or marketing purposes.
For personal protection photographs are not permitted to be taken by parents/guardians/friends of any swimmers in the water without written permission from The Swim Academy management.